After much research, My Good Lady and I decided to get a Korthals Griffon puppy. Specialist Continental hunting dogs, there are very few of them in the country – probably only somewhere between 200 and 300 in total.
Bred as being both super-intelligent and extremely versatile, they look like a cross between a German Wire-Haired Pointer and a Spinone. They are highly unusual dogs in many ways – for a start, they have webbed feet and double-layer fur.
This is what an adult Korthals Griffon looks like
To the uninitiated they come across as being very laid back, but in fact they have very much a 'Jekyll and Hyde' character. They can be stretched out asleep on the sofa doing a passable impression of a teddy bear one minute, and the next – if someone throws the hunting switch, they  instantly become completely fixated on the job in hand.
All this comes at a price though – even the breed website says that they are 'Not for the faint-hearted'!
19th April: The puppies at a few weeks old
When we tried to buy our little boy though, we discovered that the breed had 56 people wanting 6 puppies. We had to drive from Devon to just north of Swindon to be vetted to see whether we were worthy. We were delighted and humbled when we were eventually given pick of the litter – we chose a little boy who we named 'Rufus'…
9th May: My Good Lady, Claire with her new baby, Rufus
 9th May: …And here's me with him!
And so, after an anxious few weeks, we finally gave Rufus a new home…
5th June: I love you, Mummy…
5th June: Rufus meets his new 'Big Brother' – Tarquin, the Golden Retriever
June 13th: Rufus may be a puppy, but he still holds his own!
Lindsey, the breeder, assured us that any resemblance that Rufus might bear to an extraterrestrial from the Alien movies is purely coincidental…
15th June: Growing like mad…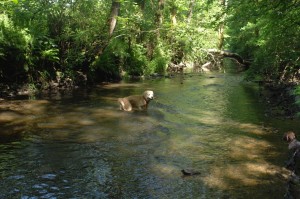 17th June: Tarquin loves any water – we especially love the beauty of our local river
17th June: Tarquin is never happier than when he's swimming
17th June: Rufus, however, is still wary of water and would rather watch…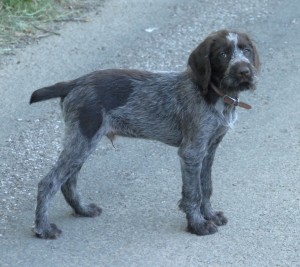 20th June: We must be doing something wrong, as Rufus just keeps growing…
20th June: It's been a hectic day…
3rd July: When Rufus 'played', he was so boisterous that he soon ripped two chunks of flesh from the sides of the ever-patient Tarquin's face. Here the poor boy has to suffer the indignity of wearing a plastic collar while the wounds heal over…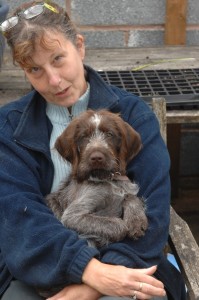 3rd July: 'It weren't me, Miss'…
3rd July: Quick – no-one's looking – time for another attack…
3rd July: I might be a bit rough with him, but I love my Big Brother really…
7th July: It really is a very big world out there…
11th July: Walks, walks, and more walks…
11th July: 'I'm still not sure about this 'swimming' thing…'
13th July: A juicy piece of sausage – my favourite!
13th July: I just know there's a grasshopper out here, somewhere…
20th July: The boys pause briefly…
20th July: At 20 weeks old, Rufus is no longer a puppy but has become a small dog
20th July: One of these days I'm going to find that grasshopper…
31st July: There must be some mischief I can get up to…
August 22nd: We had the pleasure of having Wally – one of Rufus' brothers, here for the weekend. He is much paler than Rufus, so we suspect that Lindsey (the breeder) might have taken us for mugs and palmed us off with a German Wire-Haired Pointer instead of a genuine Korthals Griffon*…
*Joke – I actually wanted a very dark dog so that he'd be less visible at night.
August 22nd: It was one play fight after another…
August 22nd: They barely stopped to catch their breath…
August 25th: It's been raining for two days, so photo opportunities have been few and far between. Sadly, Wally has also gone back to his home. He was missing his family though, so it's only fair!
Aug 31st: We had a lovely walk in the Haldon hills near Exeter with Lindsey and her family, together with Brie – Rufus' sister, and Nemo, his auntie.
Aug 31st: Brie is a beautiful girl and almost exactly the same size as Rufus
Aug 31st: The two of them had a great time together, exploring unknown territories, sniffing exciting smells, and pouncing on imaginary prey
Aug 31st: By the end of the trek Brie was feeling contented with life…
Aug 31st: Rufus thought so too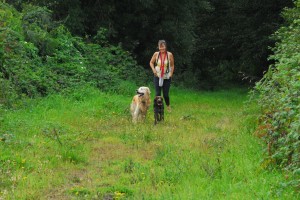 September: We took the dogs to Brittany for ten days so they could sample some French culture. We bought a burned-down farmhouse there many years ago, and have been rebuilding it ever since. The dogs thought it was great – life appeared to be one giant walk!
September: Or in Tarquin's case, an endless swim!
September: Several years ago, as work progressed on doing things like giving the house a roof, I decided to plant some buddleias in the hope that one day we might see a Swallowtail butterfly on it. Today was that day!  Even though it was very late in the season, this battered specimen was still going strong. We were absolutely thrilled to see it.
September: Even though they were on holiday, the boys made sure they kept up with their quota of play-fighting
September: Rufus conscientiously worked on his pointing skills
September: The end of a long, hard day…
September: Sometimes you have to keep an extra close eye on that ball in case it gets away
September: J'adore!
Oct 2nd: Back in England and more walks, this time on the local moor; 'OK, we've found Tarquin, now where's the other one gone this time?'
Oct 2nd: 'It's OK', puff, pant – 'Here I am!'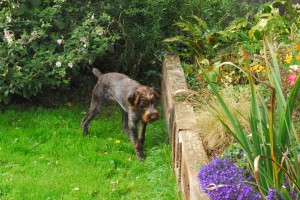 Oct 5th: Rufus checks to see if there have been any fierce intruders like ladybirds or grasshoppers
Oct 5th: Meanwhile, Tarquin quietly chews on a discarded plastic flower pot
Oct 5th: …Until Rufus realises, and then a blatant hijack takes place
October 17th: Rufus is now big enough to help with 'dogging in' the pheasants on the local game shoot where any birds that are getting too close to the edge of the estate are pushed back to where they belong. If they go too far they risk getting hit by cars, etc.
October 17th: What ever happened to the little puppy we had? He's still got some way to grow as well!
October 17th: Rufus blends in with the scenery really well
October 17th: Yes, Mum – I'll be a Good Boy – just give me the treat!
December 10th: The moor is getting pretty bleak, but it's just the sort of place for a chap like Rufus.
December 10th: Actually getting a photo of Rufus when he isn't sitting down is really hard, because for most of the time, he looks like this – a blur…
December 10th: Sometimes, however, he pauses for an instant as he sizes up the prey. A moment after this shot was taken he was gone – causing yet another woodcock to launch itself skywards, squawking in protest.
January 15th 2015: Rufus is doing his first (training) blind retrieves out in the wild.
January 15th 2015: Even though the dummy was more or less hidden in the long grass, Rufus was straight onto it. Not bad for a first go!
January 15th 2015: Rufus is very good at recall – unless a red or roe deer suddenly jumps up in front of him – then you have about two seconds to call him off, or he disappears off after it. Here he gladly takes a treat from Claire.
January 15th 2015: The woods are truly beautiful, but they provide superb cover for Rufus, who moves through the undergrowth like greased lightning. For much of the time, this is all we see of him.
January 17th 2015: Unless he's asleep, Rufus likes to be kept occupied. We've recently discovered that the red laser pointer we kept for the cat sends him absolutely ballistic. Half an hour after you've switched it off, he's still looking for it, convinced that if he sniffs hard enough, he'll find it…